Posts from "March 2023"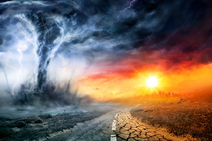 When you and I look at the earth's geologic features all around us, we are looking at evidence of God's judgment on mankind's sin.
"Because you have listened to the voice of your wife and have eaten of the tree of which I commanded you, 'You shall not eat of it,' cursed is the ground because of you" (Genesis 3:17).
This was the curse God pronounced upon Adam for his sin. The creation, the very ground, is cursed. From that day onward, what we call "natural disasters" or more accurately "acts of God" would become commonplace. What we call "famine" and "drought" and "floods" would become commonplace. Wars would now scar and scorch the earth. And, in the year 2023, chemical spills from train derailments.
The curse leaves its mark everywhere.
Keep Reading