Radical Together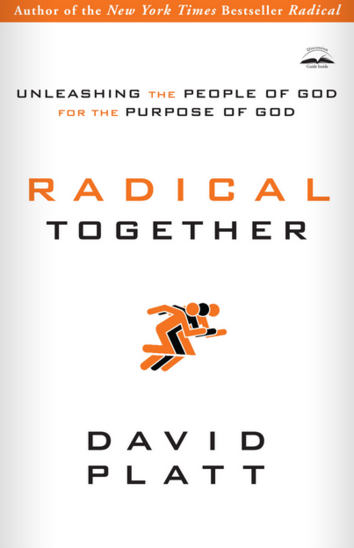 Several years ago, a little orange book hit the shelves of Christian bookstores.  I dare say nobody who read it came away neutral.  You either loved it (in a sick, this-hurts-but-I-needed-it-kind-of-way) or you hated it (probably because it hurt and you were not willing to deal with its hard truths).
The author is David Platt.  He is the new President of the International Mission Board (IMB) of the Southern Baptist Convention.  And I, for one, am excited!
Platt's heart for the gospel, and particularly the gospel to the peoples of the world who have never heard, oozes out of every book he's written (at least that I've read) and out of every sermon I've heard him preach.  He strikes me as a modern day Paul.  No time for games.  No time for unnecessary church socials.  No time for building programs or capital campaigns.  Billions are dying without the gospel and young girls are being sold into sex slavery and 20,000 are dying today of starvation while we fritter away our time and money.  O Christian  Arise!
That's the message of the book Radical.  
Platt's follow up, however, is called Radical Together.  What Radical is to the individual follower of Christ, Radical Together is for the Church of Christ.  Especially the local church of Christ, which is where the action is in this world.
The Church in America may not be ready for Platt's biblically-driven challenges, but she desperately needs to hear them.  Local churches all across this land have gotten so far off the course Jesus set for His people that one wonders if she'll ever be able to regain her strong sense of God-glorifying, gospel-proclaiming, Christ-exalting purpose and mission.  Platt is not ready to throw in the towel.  Neither am I.
Chapter One really is worth the price of this book.  It's titled "Tyranny of the Good" and its main thrust is that "one of the worst enemies of Christians can be good things in the church."  I could not agree more.  As a Pastor I get weary of putting so much time and effort into tons of "good things" that are not really the best thing.  I also get weary of being expected to put so much time and effort into promoting and planning good things that essentially distract us from the best thing.  I am hungry for more.  For better.  From myself.  From God's flock.  We need to say "no" to lots of things to sharpen our focus on the best thing - making disciples of the nations for God's glory in the Gospel of Jesus Christ.
Corydon Baptist Church, please add this book to your must read list in 2015.  If every member would read his or her Bible through this year, and read Evangelism (see former post) and Radical Together and start talking about how God would have us change, I would be a very happy Pastor.  More importantly, I believe God would do far greater things in us and among us and through us than we can ever ask, dream or think!
by Keith McWhorter
Tweet