Posts filed under Parenting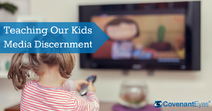 Great podcast here for parents or grandparents who spend lots of time with their grandchildren. We had better get serious about getting involved with our children's media choices . . . today! Click Here
Keep Reading
A friend of mind recently asked me how she could more effectively teach her children who God is, while reinforcing the importance of really knowing Him. A more important question could hardly be asked! So, here's my response to her, which I pray will prove useful to others raising and teaching children:
Keep Reading
A Gallup Poll found that most Americans think women should start having children by age 25. Seems reasonable to me, if not a bit late! But then again I'm considered "far right" and far too religiously conservative for "most Americans."
Keep Reading
According to a recent Family Research Council report, 45% of children ages 15-17 in America have been raised in intact families (a Dad and Mom in the home). That's a surprising statistic, and if accurate is higher than I would expect!
Keep Reading
"The body is not meant for sexual immorality, but for the Lord, and the Lord for the body" (1 Corinthians 6:13).
Keep Reading
The best blog posts and sermon illustrations always come from real life. At least that's true in my opinion. This is why I do not post to this blog multiple times a week, and sometimes I go silent for a few weeks at a time. My life is not always riveting (as difficult as that may be for some of you to believe).
Keep Reading
I have a 12 year old daughter who seemingly became a woman (physically) overnight. God has blessed her with amazing beauty (after all, she looks like a female version of me). OK, so that was my sick attempt at humor! But seriously, now that young womanhood is present in my home, "who is sufficient for these things"?
Keep Reading
This just in from the parenting "experts" on NBC's Today Show: The way to solve child tantrums is to ignore them!
Keep Reading
Last week the nation was shocked and a bit amused to discover a boy that sunk a promotional hockey shot (he squeezed the puck through a 3 inch slit) was not the boy who actually was drawn for the chance.
Keep Reading
The segment on NBC's Today show this morning had me flabbergasted. Watch it here:
Keep Reading