Redemptive Relationships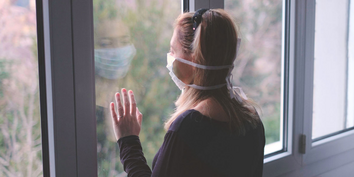 "Get Mark and bring him with you, for he is very useful to me for ministry" (2 Timothy 4:11).
The last year has taught us all so much about the value of relationships. Severed from one another for months, we were all forced to take stock. Examine what really matters. Consider those we love. Think long and hard about how we define a relationship. Of what is of most value in relationships.
We learned to pine with the elder Apostle, "I hope to come to you and talk face to face, so that our joy may be complete" (2 John 12).
Zoom burn-out set in for me somewhere about Week 1.
And I have never been on Facebook, and have no future plans to hop onto it.
So I was, and am, so pleased to be a part of Corydon Baptist Church. This Church lives as family. We began gathering back in person about as early as any congregation I know (late May of 2020). By late summer, our gatherings were bustling with hugs, rambunctious kids, handshakes and high-fives.
The pastors here learned, to our great delight, that trying to keep you saints apart was like trying to lasso the moon. Not going to happen! Inspired by you, we stepped out on faith to honor God's way of doing church, while making reasonable provisions for those wanting or needing more health precautions. At each step, and with each decision, the members of CBC have shown themselves patient, loving, and oh so eager to stay deeply invested in one another's lives. All to the glory of God in the Gospel of Christ!
But I want to urge all of us now, one year later, to take stock again. Are there relationships that have been strained among us during this bizarre, trying year? Have we said things, or posted opinions, that may have hurt our fellow followers of Christ? Either intentionally or unintentionally? Is there a Mark that you need to forgive? Offer a second chance? Ask forgiveness of?
The last 12 months have been so often hi-jacked by Satan to divide us. Gather or stay at home? Livestream or pre-recorded? Zoom or Google Groups? Masks or no masks? Distanced or close? One gathering or multiple gatherings? Children's ministry or not? Vaccinate or not? Conspiracy or not?
Any church that survives all this potential relational strain and divisiveness with gospel unity intact ought to cry out with exceedingly great joy, "Glory to God in the highest!" Indeed – Corydon Baptist Church – we sing and shout, "Hallelujah! Let everything that has breath, praise the Lord!"
But I urge you yet again, assess your relationships in the church. Pray Psalm 139:23-24. Go back and review your online posts and activities. Ask God to help you find any source of unnecessary hurt or division, and grant you the courage to go seek reconciliation. Search your hearts for judgmental attitudes towards brothers or sisters who have made different decisions than you. Thought differently than you in non-essential matters. Ask God for a Holy Spirit cleansing of unrighteous judgmentalism. Truth is, none of us has responded to the various challenges of the last year with perfect righteousness or perfect consistency. We have all played the hypocrite at least once, if not a few times. So may we be reminded, as we see every member of CBC re-gathering on Sundays in the weeks ahead, that our only hope is Christ. Always has been. Always will be.
Our unity must not be surface level. And the pandemic has certainly exposed a metric ton of shallow unity among churches, denominations, and among those labeling themselves evangelicals. The sundry reasons we split with people or churches are varied. But the grace of God in Christ, poured out on us richly, is greater. The blood of Jesus makes the vilest sinner clean, and can reconcile and restore even relationships that seem doomed. We don't know the details of why and how John Mark and the Apostle Paul reconciled. But praise God, we know they did! Paul gave the young brother another chance. Thought better of his harsh view of Mark's departure during Missionary Journey #1 (see Acts 15:36-41). Time is so often a minister of God's heart-softening grace. No doubt Mark also had some fessin' up to do too. Soul-searching. Asking forgiveness. Recommitting to the King and His cause.
The end result was beautiful. Powerful. A picture of Christ "making peace by the blood of His cross" (Colossians 1:20). May God keep painting this scene across our own lives. Our own churches. Our own relationships. Redemptive Relationships that reflect the Redeemer.
"Behold, how good and pleasant it is when brothers dwell in unity" (Psalm 133:1).
by Keith McWhorter
Tweet