Shall We Never Forget?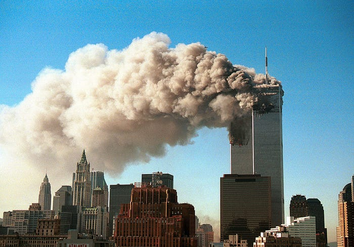 The song by Alan Jackson, "Where Were You When the World Stopped Turning?" says it well. It did feel like everything in the world was on pause, on that day twenty years ago.
9/11.
Much like my grandparents who never forgot where they were and what they were doing when news of the bombing of Pearl Harbor was published, so those of us who were of a reasonable age on September 11th, 2001 will never forget. We cannot erase the images from our minds.
On that day, 2,996 divine image bearers had their lives snuffed out. Gone. In a moment. Launched into eternity to meet their Creator God. Our hearts still break for those grieving the irreplaceable loss of a husband, dad, wife, mom, sister, brother, friend, co-worker, peer, fellow church member, or child. Unspeakable trauma was foisted upon us as a nation. I honestly still get queasy if I dwell on it too long (and I generally have a pretty strong gut). May the Lord comfort us as we remember and mourn.
This particular 9/11, twenty years later, feels especially gloomy. Our Nation has experienced unprecedented government responses to a very precedented virus. To see "The Land of the Free and the Home of the Brave" locked up, shut down, masked up, forced to take a shot, shut up, canceled, divided, hateful, rioting, looting, cussing, suspicious and cowering has been traumatic on us all. To add insult to injury, hurricanes, wild fires, earthquakes and drought seem to plague us non-stop. And then there's the thought of Americans left behind in Afghanistan. Queasy. Again.
I, like most of you, can rant on these things for hours, from various angles (political, theological, emotional, sociological). But now is not the time. Not today. Not now. It is a time to weep. To reflect. To cry. To pray. To return to our God. Through repentance of sin. By faith in Jesus Christ. Who endured more wrath and trauma, as He hung on the cross in our place, than we could ever imagine.
The Lord Jesus is our only hope, America. Christ Jesus is the only hope, World.
And we Christians, who by the sovereign saving grace of God have this living hope, are going to have to stand while the world shakes and calmly, boldly say to the shaken:
"What God foretold by the mouth of all the prophets, that His Christ would suffer, He thus fulfilled. Repent, therefore, and turn back, that your sins may be blotted out, that times of refreshing may come from the presence of the Lord, and that He may send the Christ appointed for you, Jesus, whom heaven must receive until the time for restoring all the things about which God spoke by the mouth of His holy prophets long ago" (Acts 3:18-21).
by Keith McWhorter
Tweet